Never skip on your communication.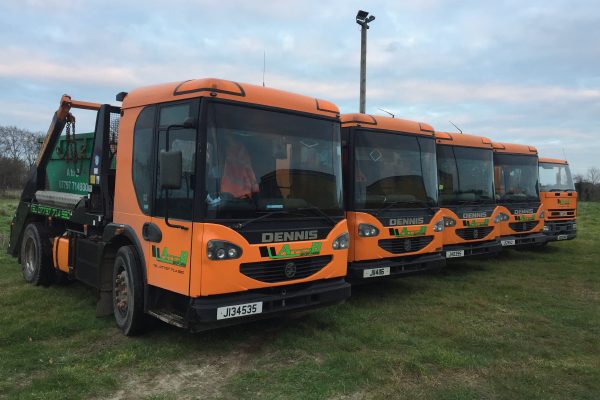 4G Telox Two Way Radio Solution Provides Full Coverage Across Jersey for Skip Hire Company
Family run business 'A to B Skips with Regs' are located in Jersey, Channel Islands and offer skip rental services to a wide range of customers from contractors working on large projects, to home owners looking to utilise skip hire for their personal home improvements.
A to B Skips with Regs have a dedicated team of 10 consisting of six drivers, two directors, a manager and secretary. Drivers are often situated across different locations on the island, so a robust communication solution to keep the team connected is vital.
When discussing communication requirements with Office Administrator Emma Pallot, she explained that the day to day sees their drivers providing services throughout the island, because of this the yard needs to be able to communicate with each driver when necessary to provide them with information such as the current job details and directions.
After their previous radio system had proven insufficient for their requirements, Emma explained that to install the private system they'd need wouldn't be cost effective. After conducting research into alternative communication solutions and seeing what other haulage providers used, Emma came across 4G radios so looked into companies that could provide this service to them in Jersey.
After discovering Sure Business Systems, A & B Skips were offered a trial and sent equipment for them to demo, consisting of a Telox M5 cab radio and a hand held PoC radio system.
With the Telox 4G PoC communication solution proving a success, it was decided to roll the devices out across the business. Operating over 4G means the team have wide area coverage and are not limited to the strength of the radio signal, which is crucial with drivers working throughout the Island.
The devices operate on the Airsys Cloud Platform, which offers easy set-up, secure communication and the capability to seamlessly bridge between two-way radios and new cellular devices across multiple manufacturers.
When asking how the 4G radios have been for the team Emma detailed that the staff are thrilled with their new devices, not only can they communicate when drivers are remote around the Island, the 4G data also enables them to send location pins to individual drivers to help locate specific jobs.
Emma further explained "We also have many Portuguese speaking employees therefore the radios enable direct communication between specific drivers to explain in Portuguese certain jobs, without disturbing the remaining drivers."
Speaking with Emma about the buying experience from Sure Business Systems she detailed:
"Sure Business have been incredible from the start. Extremely helpful and efficient providing us with demo radios, installation help and extremely good customer service helping us set up the vehicle units. Neil and Lee have been outstanding and we could not speak higher of them and the service they have given us. We have been telling many other local companies about the fantastic service including how easy and quick it was to get a new system set up."
The team at Sure Business Systems are delighted that A to B Skips with Reg's Ltd are happy with their new 4G communication solution and the customer service provided by the team.
Airsys.Cloud Key Features
Local, national and global instant communication
Incumbent radio infrastructure integration
Sophisticated dispatcher
Task manager
Internal localisation
Record history
Guard tours based on

GPS location
QR code scans or NFC Tags at waypoints
Customizable alerts
Lone worker protection

Man down
Impact detection
Movement alarm
Periodic checks
Emergency teams
BS 8484:2016 Compliant (with compliant device)

Video calling and PTV (push to video)
Remote control

Ambient listening
Camera access
Contact Us
Our dedicated team of Broadband Push-to-Talk specialists are here to work with you to deliver your needs, whatever your requirements. Within the Broadband Push-to-Talk market, Airsys.Cloud has become an essential provider of telecommunications solutions. Discuss with our team today on how we can do more with what you have.